Extra-articular hip impingement – Case series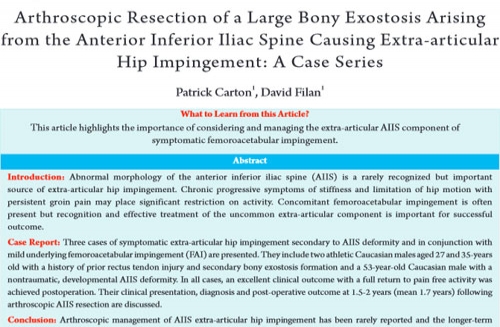 Introduction:
Abnormal morphology of the anterior inferior iliac spine (AIIS) is a rarely recognized but important source of extra-articular hip impingement. Chronic progressive symptoms of stiffness and limitation of hip motion with persistent groin pain may place significant restriction on activity. Concomitant femoroacetabular impingement is often present but recognition and effective treatment of the uncommon extra-articular component is important for successful outcome.
Case Report:
Three cases of symptomatic extra-articular hip impingement secondary to AIIS deformity and in conjunction with mild underlying femoroacetabular impingement (FAI) are presented. They include two athletic Caucasian males aged 27 and 35-years old with a history of prior rectus tendon injury and secondary bony exostosis formation and a 53-year-old Caucasian male with a nontraumatic, developmental AIIS deformity. In all cases, an excellent clinical outcome with a full return to pain free activity was achieved postoperation. Their clinical presentation, diagnosis and post-operative outcome at 1.5-2 years (mean 1.7 years) following arthroscopic AIIS resection are discussed.
Conclusion:
Arthroscopic management of AIIS extra-articular hip impingement has been rarely reported and the longer-term outcome is unknown. We report the successful clinical outcome in a case series of three patients up to 2 years following arthroscopic AIIS resection. This case series demonstrates the sustainable benefits of arthroscopic correction of AIIS bony exostosis as a cause of extra-articular FAI.
Keywords:
Hip arthroscopy, extra-articular hip impingement, anterior inferior iliac spine, bony exostosis, femoroacetabular impingement.
Click the link below to read the full article:
Anterior Inferior Iliac Spine (AIIS) and Subspine Hip Impingement